With Nebula Genomics, Your DNA Data Is Secured and You Stay in Control

Nebula Genomics claims to do things differently from other DNA test providers, particularly when it comes to safeguarding your valuable DNA data.
While other DNA testing companies could theoretically pass some or all of your DNA data to third parties, such as pharmaceutical companies, Nebula claims to guarantee you complete control of your data, unless you say you're happy to share it. If you do decide to share your data to help advance scientific research, your personal information will be encrypted, which means your sample won't be tied to your identity.
Because this company aims to provide subscribers with additional insights over time, without having to submit another sample, you should see your initial results as the start of a DNA journey of discovery. For those who don't opt for the subscription model, the initial reports are limited.
Now let's dig into the details to help you decide if Nebula offers the right DNA testing service for you.
DNA Test Kit
All-in-One Test for Ancestry, Health, and Diet
While many other companies sell separate DNA tests for ancestry, health, and dietary advice, Nebula offers an all-encompassing kit for the three major test types.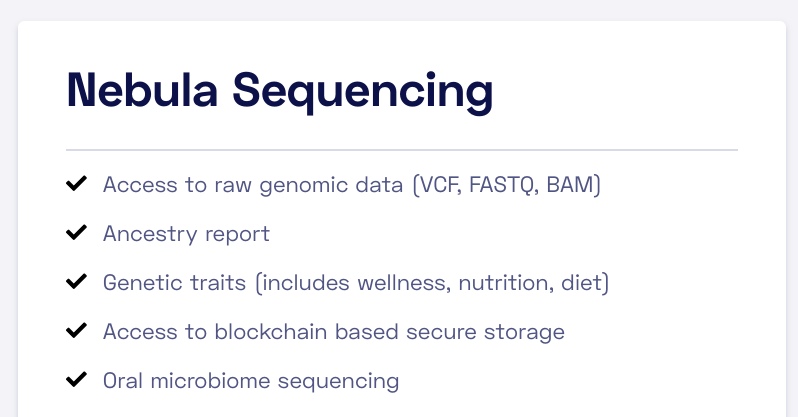 Note that, at the time of this review, Nebula's DNA kit is only available to ship in the United States. However, you can upload raw data and access your results from anywhere else in the world.
The process is very straightforward:
Register your kit online as soon as you receive it, using your unique ID.
Collect your saliva sample, seal it up, and return it in the prepaid envelope.
Get your results (including your downloadable raw DNA data) online in about eight weeks, which is longer than the average.
5 Standout Features of Nebula Genomics
1. Sequences Over a Billion Positions on Your Genome
Nebula claims that its sequencing, which analyzes more than a billion positions on your genome, provides 1,000 times more data for around the same price as competitors, such as AncestryDNA and 23andMe (both of which claim to analyze hundreds of thousands of variants in your genome).
2. Encrypts Data and Accepts Cryptocurrencies
Many people are understandably worried about the privacy of the information they allow to be stored online, and whether it will be shared with third parties.
Nebula addresses any security concerns by encrypting both the stored DNA data and any data you decide to share with others. You can also interact anonymously through a VPN and pay with a cryptocurrency, ensuring that your DNA data is not traceable to you.
3. Rewards You for Sharing Your Data
Nebula promises to "compensate you fairly" for securely sharing your data with researchers, which will help advance scientific research that leads to new insights into ancestry and health.
You can earn credits by recruiting friends, uploading raw DNA data, and participating in surveys about your health. These credits can be exchanged for cryptocurrency.
(Don't forget that your data is encrypted, so it isn't attached to personal information that can identify you.)
4. Accepts Raw DNA Data for Free Insights
You can upload your raw DNA data from other testing companies (MyHeritage, AncestryDNA, FamilyTreeDNA, or 23andMe) and see some of your traits. You can access this information for free with a two-week trial, or get ongoing access to new research in the Nebula Library if you purchase a monthly subscription (billed annually).
To test this, I uploaded my own raw DNA data from 23andMe. The process was simple and, in less than an hour, I got some very specific insights that I've never seen offered by another vendor. For example, I learned my genetic susceptibility to mental illnesses (e.g., bipolar disorder, depression, etc.) and whether I am likely to experience retinal detachment.
5. Includes Oral Microbiome Reports for Digestive Health
Nebula claims to be the first and only personal genomics company to provide valuable information about how your oral bacteria compare with the general population. This could give you clues about inflammatory bowel disease, obesity, diabetes, Alzheimer's, and more.
Reading Your Results
Underwhelming Reports but an Intriguing Research Library
If you've taken a DNA test before, you will have some expectations about how your results should look. Nebula's main reports fall short by showing less information than other providers, but with a promise of providing more information in the future.
Inherited Traits
The first section shows your inherited traits. There were 27 traits at the time of writing, with a promise of more to come in the future (without having to submit a second sample). The traits are arranged into four categories:
Appearance and Hormones
Behavior and Perception
Body and Athleticism
Nutrition and Diet
You can dig into any of those categories, such as Body and Athleticism, to discover (for example) your risk for high blood pressure, whether you have increased sensitivity to sunlight, and your predisposition to obesity. For each trait, Nebula cites the determining gene(s) and the variant(s) you have, along with a general description of the trait: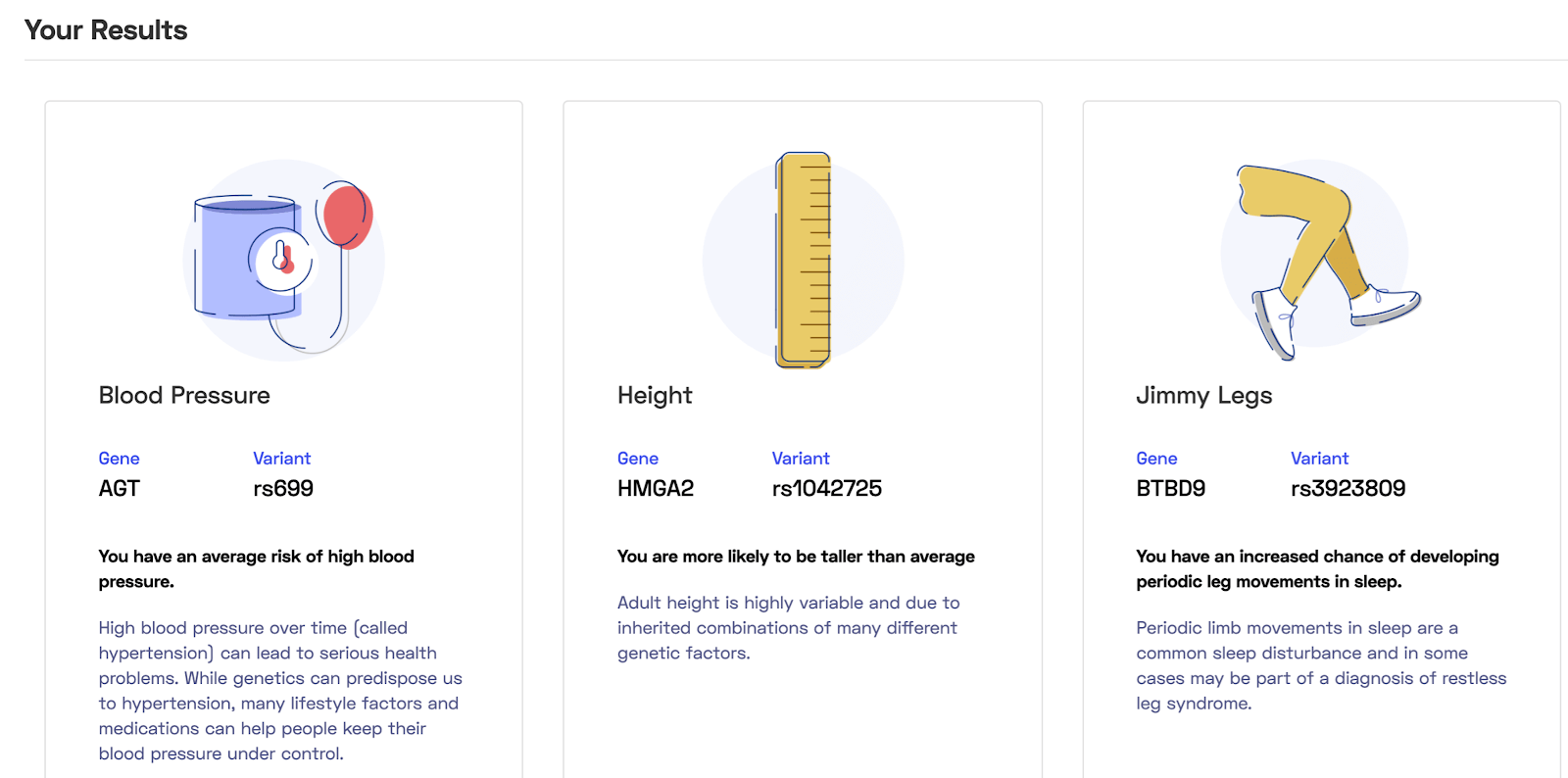 While you can't do anything about the length of your legs (and probably don't want to), the insight into your tendency toward high blood pressure might prompt you to get it checked or make some lifestyle changes.
Ancestry
The next section explores your ancestry, which is where the results are somewhat underwhelming compared to competitor DNA testing companies. All you get is a breakdown of your estimated percentage heritage for each region (out of about a dozen), shown on a color-coded map: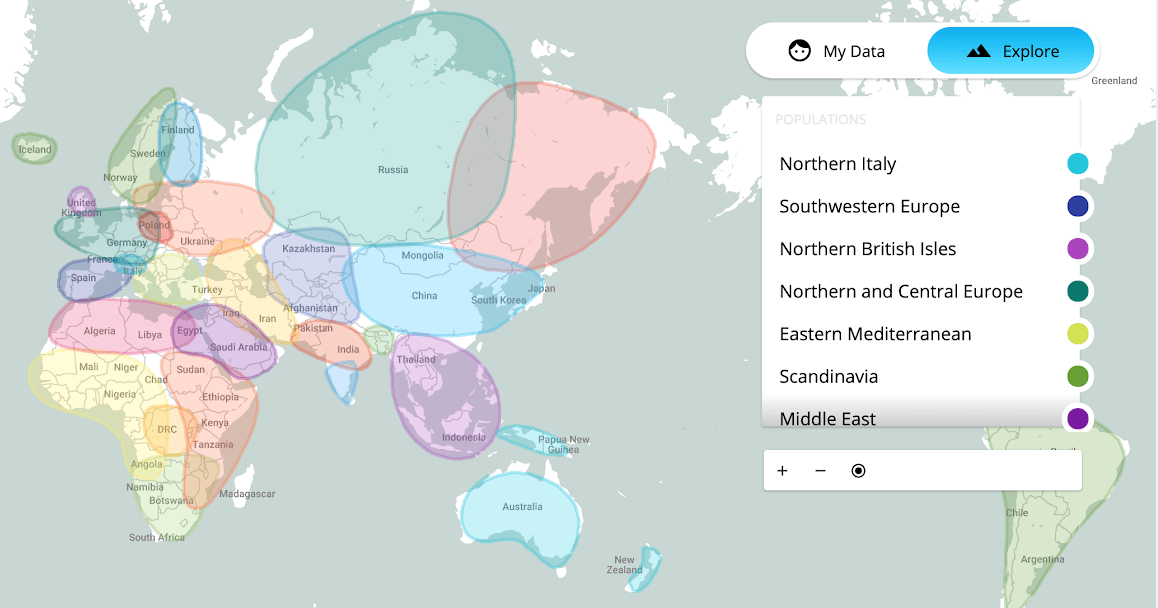 In contrast, AncestryDNA lets you connect with others who share DNA with you. The reason Nebula doesn't do this may have something to do with the emphasis it places on privacy. So, if you are interested in researching your genealogy or building a family tree, you'd be better off checking out a vendor like MyHeritage.
Additionally, unlike some of its competitors (e.g., 23andMe), Nebula only tests your autosomal DNA, which provides clues to your more recent ancestry. It doesn't test your mtDNA or Y-DNA to tell you about maternal or paternal genetic lines or ancient migration routes.
Oral Microbiome
Since you submit a saliva sample rather than blood, this also allows Nebula to compare your oral bacteria with that of the general population. The abundance of bacteria could give insights not only into your oral health (e.g., dental cavities) but also such things as cardiac health and cognitive function. Not all DNA testing companies provide this information.
Nebula Library
The Nebula Library is where this company really sets itself apart from competitors, by curating research publications and indicating how they relate to your genomic data. However, you'll only get access to this research repository if you:
Purchase "Nebula Explore" on a monthly subscription (billed annually); or
Get a free trial (by uploading your raw data).
I was reassured to see that a few new reports had been added in the past two weeks, which is important if you're going to sign up for a subscription.
Although the reports tend to be rather technical, they could be very interesting for anyone who's curious about genetics in general or wants to see the latest scientific research on the specific genes they have.

You have no way of knowing what reports will be published in the future, so you don't know if they'll answer the questions you have. However, you can filter the results by selecting or searching for tags.
Nebula Genomics Pricing
Good Value Ongoing Subscriptions, but Buyer Beware!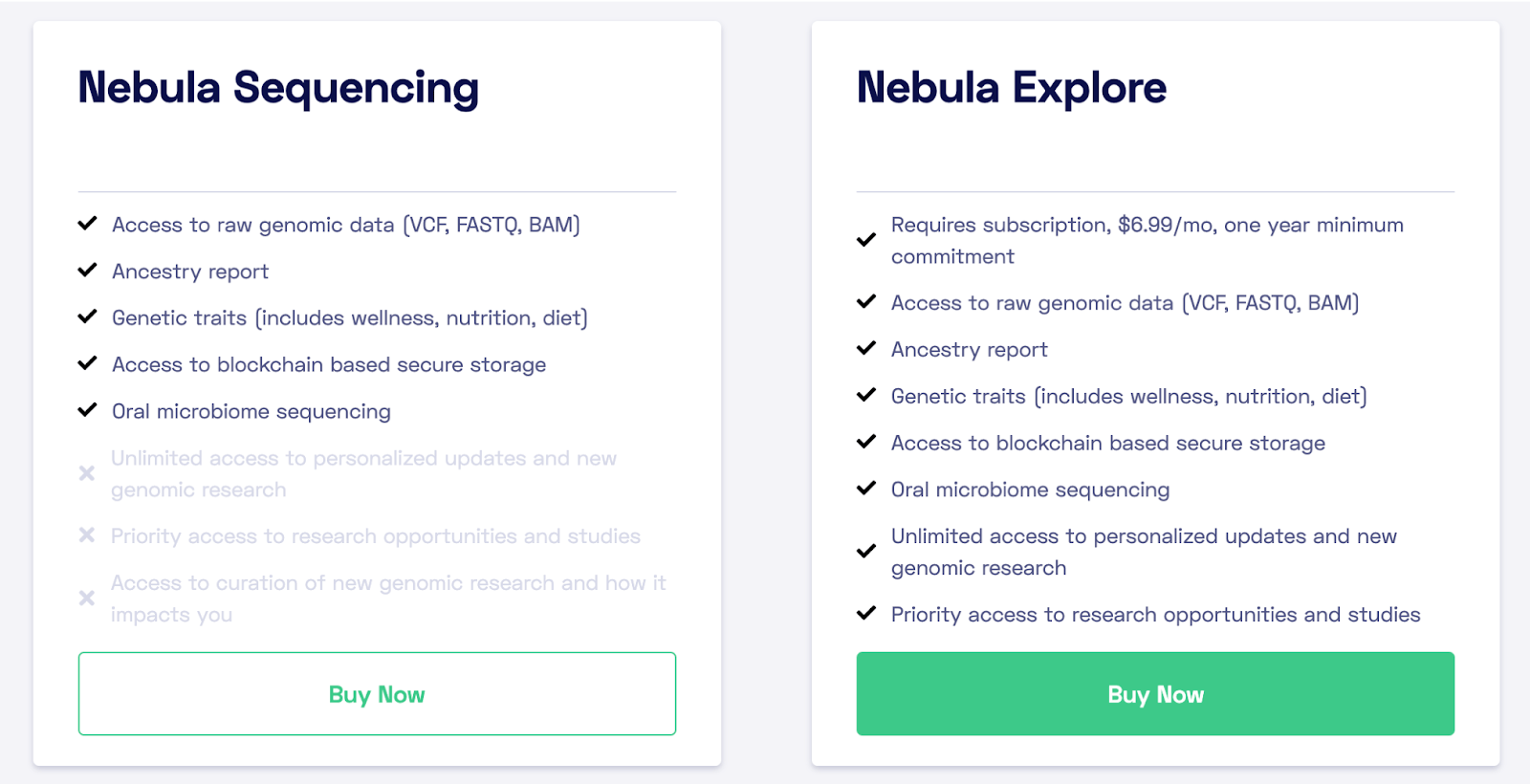 There are two ways to pay for Nebula's test kit:
By paying a one-off fee for Nebula Sequencing, which entitles you to a set of one-time static reports; or
By subscribing to Nebula Explore, which gives you ongoing access to always-improving results and research.
The subscription option is cheaper, and it gives you access to the vast Research Library, but it comes with some caveats. The initial test kit fee is non-refundable, and you commit to paying for a least one year's subscription (even if you don't send in a sample) unless you request a cancellation within 60 days. Some customers have complained about the inherent confusion on Facebook.
One thing that you may want to consider is purchasing an AncestryDNA, MyHeritage, or 23andMe test (for about the same cost) and then uploading your raw data on Nebula. This way, you'll access a broader set of features, including genealogy services and family tree builders that Nebula Genomics doesn't offer.
Are the tests worth the price you pay?
As far as the ancestry results go, probably not, especially when compared with companies like 23andMe and AncestryDNA. The health results are more in line with what you would find elsewhere, and they include the unique "oral microbiome" information, which many competitors don't provide.
Remember that an ongoing subscription should provide enhanced insights over time and that you could get credits for sharing information with the scientific community. You'll need to determine if these features are worth it to you.
Support
Friendly, Responsive, but Somewhat Ineffective
While Nebula provides plenty of resources to explore, not all of its answers were satisfactory.
Nebula publishes an FAQ page that provides background information about the company, its services, and its research library. Although this part of the website is helpful, it's limited, so I set out to ask the support staff some questions via the only available contact channel (email):

Although a helpful support agent provided a screenshot of a sample report within a day, he (or she) couldn't answer my specific question about the number of geographic regions.
Worth It for the Ongoing Research, Not for the Static Report
Nebula seeks to separate itself from competitors by emphasizing privacy, affordability, accurate analysis, and ongoing information. Let's look at each aspect in turn.
For privacy, Nebula offers an anonymous sequencing service, which most testing companies don't do. This means that you can share your DNA data without your name or other identifying information ever being associated with it. You can also assume your data won't be shared with the scientific community unless you agree to it.
When it comes to affordability, Nebula's DNA test kit is expensive, but you could pay for it by earning credits. You can also save money by opting for a subscription rather than a one-off purchase. Lastly, you can also upload raw data from another site like AncestryDNA or 23andMe and get a lot of additional information (as well as the benefits these two offer that Nebula Genomics doesn't have.)
In terms of accuracy, Nebula claims its genome sequencing is much better than its competitors because its genome sequencing analyses "thousands of times more data." From a quality perspective, this may well be true, but the quantity of information is lacking.
The ongoing information comes in the form of the Nebula Library, which evolves to incorporate the latest scientific research. When you sign up you can learn more, and more, and more over time.
FAQ
How accurate is Nebula Genomics?
Nebula Genomics will be the first to tout the accuracy of its tests. By offering what it calls 30x whole-genome sequencing, the website claims that its DNA tests read 6,000,000,000 positions in your genome. That's much higher than the supposed 600,000 positions 23andMe and AncestryDNA does.
Who founded Nebula Genomics?
The company emerged from three individuals from Harvard Medical School. Geneticist George Church co-founded Nebula Genomics along with graduate students Kamal Obbad and Dennis Grishin.
How does Nebula Genomics compare to other similar tests?
Companies such as 23andMe, AncestryDNA, and Helix offer direct-to-consumer DNA testing, which results in their acting as intermediaries between you and the pharma industry.
Nebula Genomics seeks to flip the paradigm with blockchain technology. Through this approach, you receive complete ownership and control of your data, remain anonymous, and can even get compensated for sharing your data.
How much does a Nebula Genomics test cost?
A DNA test with Nebula Genomics is currently 299,00 $US. In addition, you can pay a monthly fee for a Nebula Explore Subscription, which gives you weekly updates on the latest research and data.
Who should consider taking a Nebula Genomics test?
Taking a DNA test with Nebula Genomics is not transactional, but instead a journey. Some of your results may even take a little digging and exploration in order to better interpret the data.
If you're planning on using your results as a jumping-off point for your research, then it could be the right fit for you.
As long as you don't mind doing a little work on your end to find the answers, DNA testing with Nebula Genomics may prove to be a rewarding venture.