iGenea Overview: Only for Genealogy, Not Health
Swiss DNA testing company iGenea has been offering services globally for over a decade. One of the main upsides, for some, is that it pays particular attention to possible Jewish heritage. The main downside, for many, is that it doesn't offer insights into health.
iGenea uses an interdisciplinary approach that aims to provide an accurate breakdown of your ethnic makeup. It is connected to the more famous FamilyTreeDNA, which means it uses FamilyTreeDNA's lab and has access to its database.
Since iGenea is one of the less well-known genealogy and DNA testing companies – compared with, say, MyHeritage DNA or AncestryDNA – you'll want to know why you should take a chance with this one. To help answer your questions, I took it for a test drive.
How it Works
Unlike some companies that require you to prick your finger for a blood sample, all of iGenea's three ancestry services (Basic, Premium, and Expert) require you only to submit a totally non-invasive cheek swab sample.
The process is as simple as this:
Order your test online, and wait a couple of days for it to arrive
Register your kit and collect your cheek swab sample
Send your sample to iGenea and wait for the notification that your results are ready
My sample collection kit for the "iGenea Basic" test arrived about two weeks after placing the order. It contained exactly what I expected: an instruction booklet, two sample collection swabs, two vials to dunk them in, and a non-prepaid envelope to send back to the lab.
So, I swabbed my cheeks for two minutes, inserted the swabs into the vials (making sure to screw the lids on tightly), and posted the package. As advertised, it took seven weeks to receive my results, which is longer than the two weeks it takes 23andMe (for example) to process your submitted sample.
iGenea's 5 Standout Features
Analyses Y-DNA and mtDNA
Y-DNA is genetic information that's passed down exclusively from fathers to sons, and mtDNA is what's inherited by both male and female children from their mother. Since iGenea analyzes Y-DNA and mtDNA (in addition to the usual autosomal DNA), it can give you a breakdown of both family lines. This isn't offered by every company, not even AncestryDNA.
Good at Assessing Jewish Ancestry
iGenea can accurately assess your percentage of Jewish ancestry by comparing your genetic profile with over 700,000 entries in its massive database. Remember that thanks to its Y-DNA and mtDNA analysis, your report will provide insight on your Jewish heritage from both sides of your family.
No Ongoing Costs
When you join iGenea, you gain lifelong access to their extensive database, allowing you to continuously view a growing list of DNA matches. Whenever someone new takes a test with iGenea or FamilyTreeDNA, your DNA will be compared to theirs. If there's a match, you'll receive a notification.
Free Consultation with an Expert
This is something that even the most popular DNA testing companies don't offer. Regardless of which test you take (Basic or Premium), iGenea lets you speak to a genetic expert about your results. This helps ensure that all of your questions will be answered and that you fully understand the information in front of you.
Close Affiliation with One of the Best in the Business
iGenea is affiliated with the oldest genealogical company in the market, FamilyTreeDNA. It gives iGenea access to state-of-the-art laboratories and one of the largest DNA databases.
Other Test Kits Available
iGenea Premium and iGenea Expert offer everything the Basic package does, but the ancestry insights are much more in-depth. For example, with one of the higher-end packages, you'll get ancient information regarding your maternal and paternal haplogroup, and the likely migrations your ancestors made over time.
Similar Tests to Consider
With its incredibly massive DNA database, AncestryDNA will also give you a long list of possible living relatives around the globe, as well as the ability to delve deeply into your genealogy and develop a massive family tree.
Explore Your Ancestry and Find Living Relatives
As soon as iGenea notified me by email that my results were ready, I could log into my account using my kit number, password, and an "iGenea key" that was provided in the notification.
Clicking "DNA-Explorer: Your Origin" led me to an interactive, color-coded map that shows a detailed breakdown of my ethnicity: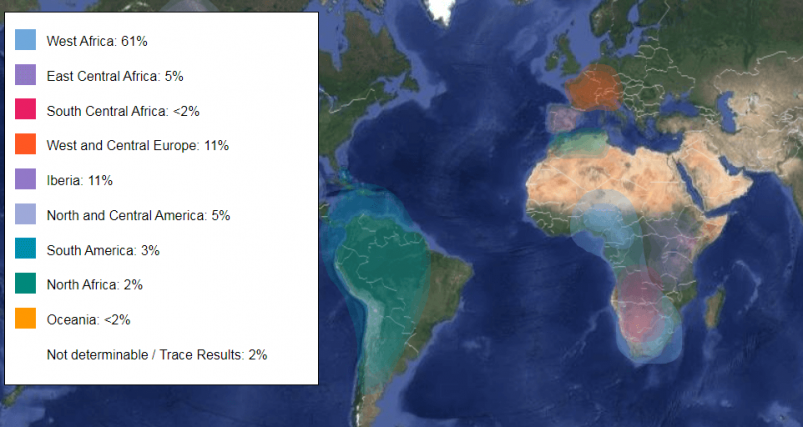 These results told me that my ethnic makeup is 66% African, 22% European (centered on Spain), 8% from the New World (i.e., the Americas), and 2% Middle Eastern. I could dig deeper into those percentages to see more detail: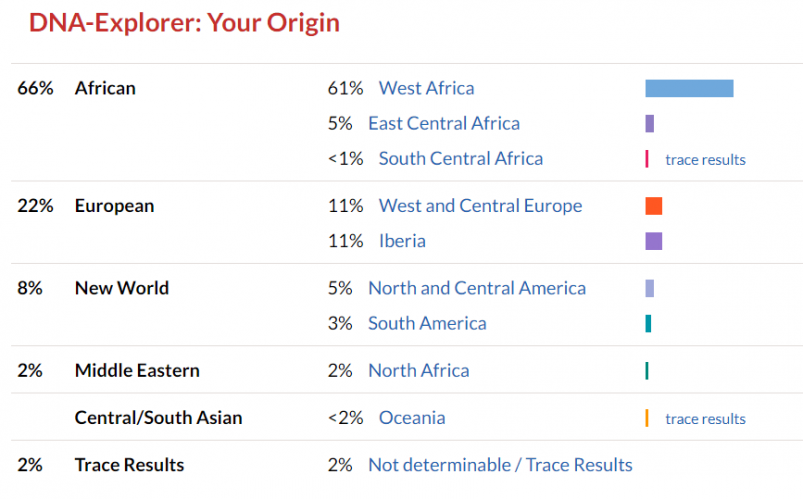 iGenea uses FamilyTreeDNA's lab for its tests, so my results closely mirrored those I got from FamilyTreeDNA just a week prior. The results came online and also as a printed certificate about a week later. Beyond ancestry insights, iGenea lets you find genetic matches by tapping into FamilyTreeDNA's large user database.
Privacy: Doesn't Share Consumer Data
iGenea prioritizes the security and confidentiality of user data, implementing strong safeguards against unauthorized access and data breaches. Their dedication to security means you can be confident that your personal information is protected from hacking. iGenea is vigilant in ensuring the safety of your sensitive data.
iGENEA distinguishes itself in the DNA testing market through its specialized approach to data protection. They maintain a strict division between the handling of personal information and the analysis of samples, guaranteeing that your data remains confidential and secure throughout the testing process.
In its commitment to privacy, iGenea also forms strategic alliances with respected organizations, enhancing the precision and depth of their tests. These partnerships enable data sharing, which bolsters the test results. iGenea's notable collaborators include SRF, Bild, L'Hebdo, DieWelt, LE Temps, and 24 Heures, whose involvement adds to the integrity and dependability of iGenea's offerings.
Pricing: A Wide Range of Prices but Expensive
iGenea's three DNA tests are offered at three very different prices.
The Basic test I took is the most affordable and might be worth the money for the accuracy of the results. However, it's significantly more expensive than similar tests provided by better-known competitors such as 23andMe, MyHeritage DNA, and AncestryDNA. Not only this, but it is also more expensive than the FamilyTreeDNA "Family Finder" test (which presumably uses the same lab and the same DNA database).
At the other end of the price scale, the Expert test is described in the FAQs as "the most comprehensive genealogical DNA test in the world." Whether it's worth seven times the cost of the basic test – for information about all the ancient tribes in your ancestry, and all your relatives from the database – may be debatable. It all depends on what you want, and what you can afford.
In all cases, the cost includes shipping of the test kit to you, laboratory analysis, interpretation of the results, unlimited customer support, and online forever access to the results and database. However, you have to pay to send in your sample.
Payments can be made by PayPal, Visa, MasterCard, or invoice, and you'll only get a refund if the company sends the wrong kit or performs the wrong test. There are no ongoing costs, as far as I know.
Ascendance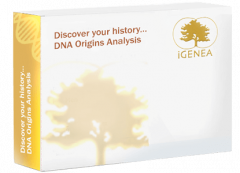 Ascendance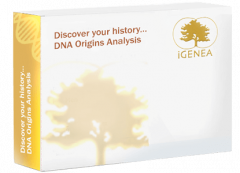 Ascendance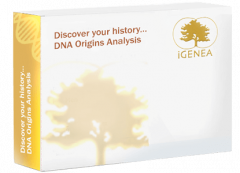 Customer Service: Quick and Easy to Reach
Apart from a decent enough set of frequently asked questions, iGenea's website isn't exactly overflowing with information. There's no glossary of terms and no Learning Center.
I contacted the company by email, first to ask about its lab, and then to ask about the advertised free consultation. I received a reply both times, with the longest wait being about two days from when I emailed just before the weekend.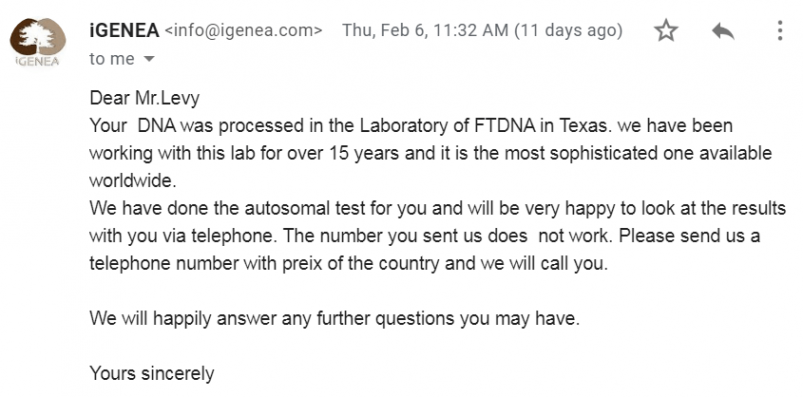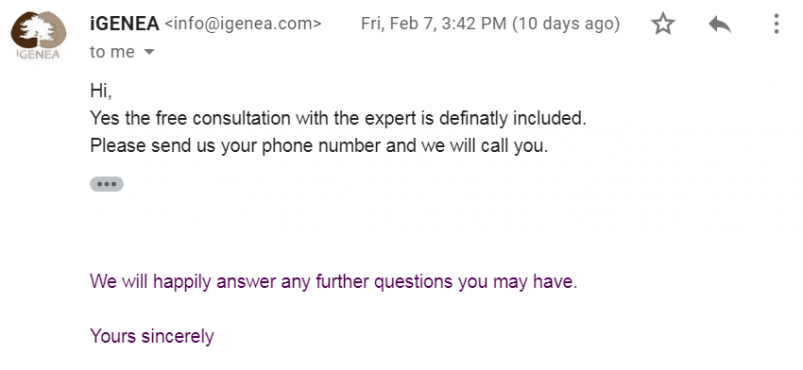 Could Be One to Consider for Insights About Ancestry
No company offers everything, but the more products a vendor offers, the more appealing it is to potential customers. It's a little disappointing, therefore, that iGenea doesn't offer DNA-based health and wellness insights to complement its ancestry offerings. For a combined ancestry and health DNA test, you'll have to turn to one such as AncestryDNA.
There's something to be said for specializing in one particular area: doing one thing, and doing it well. iGenea does ancestry well, thanks to its close association with FamilyTreeDNA. But here's the thing; FamilyTreeDNA is cheaper!
FAQ
How accurate is iGENEA?
iGENEA is actually very accurate. DNA samples are processed at FamilyTreeDNA's lab, which is the oldest and most respected facilities of its kind. I've personally taken a test from iGenea, and I can attest to how enlightening test results can be.
How does iGENEA compare to other, better known vendors?
Ultimately, it depends on what you're specifically looking for; but if you're in the market for highly accurate DNA-based ancestry test results, then iGENEA is definitely is a company that you should keep on your shortlist. Granted, it doesn't cover as many biographical regions as 23andMe, nor does it have the database size of the much more popular AncestryDNA. However, test results from iGENEA can cover your mtDNA and Y-DNA, and that's something that most test providers don't offer. Also, because the testing is done via FamilyTreeDNA, you'll have access to one of the largest databases in the market.
What countries is iGENEA available in?
There are very few countries from which you can't order a test from iGENEA. Long story short, it's available wherever it's legal to ship a DNA test kit. Depending on where you want a kit delivered, there might be problems with customs; but iGENEA is basically available globally.
How much does an iGENEA test cost? (Any discounts?)
iGENEA offers three products at three very different prices. The Basic test is the most affordable and might be worth the money for the accuracy of the results. That being said, however, it's significantly more expensive than similar tests provided by better-known competitors such as AncestryDNA (99,00 $US). Also, iGENEA doesn't seem to offer any discounts.
Who should consider taking an iGENEA test?
There's something to be said about doing one thing and doing it well. iGENEA does ancestry well, thanks to its close association with FamilyTreeDNA. But FamilyTreeDNA is cheaper! You should consider taking an iGENEA test if you want great accuracy, DNA matches, and lifetime updates, but only if you don't mind paying a little more.